Airveda PM2.5, PM10, CO2, Temp, Humidity Monitor
Meet India's most ACCURATE and PORTABLE air quality monitor.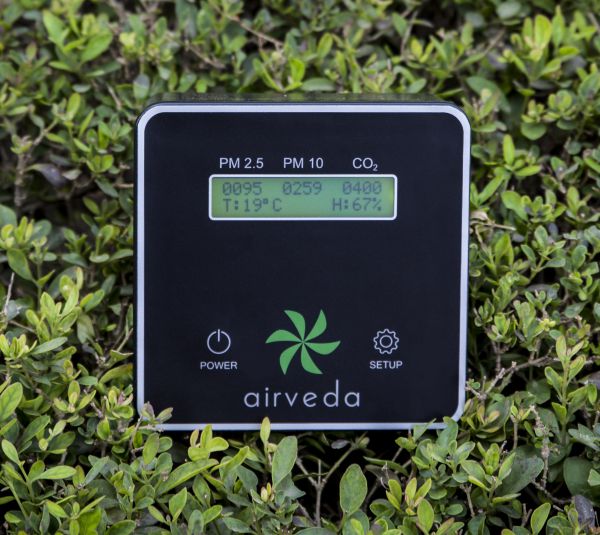 ACCURATE
PM calibrated against devices that cost almost 1000x like BAM and Grimm 11-E. Monitor allows easy calibration for the CO2 sensor to ensure best results.
PORTABLE
The small size and longer battery life makes it extremely portable. Can be charged using any USB power outlet in your car, laptop or power bank.
REMOTE MONITORING
Connects to wifi at home or at work and to your personal hotspot while on the go. You can view data and get health related alerts in a mobile app on your phone.
₹ 16300 (inclusive of all taxes)
₹ 17000
Add to Cart
Technical Specifications
Measurement

Measurement parameters: PM2.5, PM10 in μg/m3
Range of PM2.5: 0-999 μg/m3
Range of PM10: 0-1999 μg/m3
Minimum resolution of < 0.3 μm
Relative error Maximum of ±10% and ±10μg/m3
Range of CO2 400 to 5000ppm
Range of Temp: 10 to 50 degrees C
Range of Humidity: 0 to 90% RH

Portable

Size :

11.6cm*11.6cm*6cm.

Power voltage :

5V. Can be charged via laptop/car usb.

Tested and calibrated against :

BAM, Grimm 11-E

Wifi Connectivity:

Connects to wifi. Data available in Android and iOS apps alongwith Indian AQI, day, week, month history as well as outdoor data in different parts of city.
Warranty & Support
1 Year warranty against any manufacturing defects.
Client responsible for getting device to our facilities for all servicing. Service time 1 week.
Warranty is void if device is opened, tampered with or electronics damaged due to mechanical shock.
Working Principle
Using laser scattering principle: Light scattering can be induced when particles go through the detecting area. The scattered light is transformed into electrical signals and these signals will be amplified and processed. The number and diameter of particles can be obtained by analysis because the signal waveform has certain relations with the particles diameter.