Airveda Outdoor Air Quality Monitor
Meet India's most ACCURATE low cost air quality monitor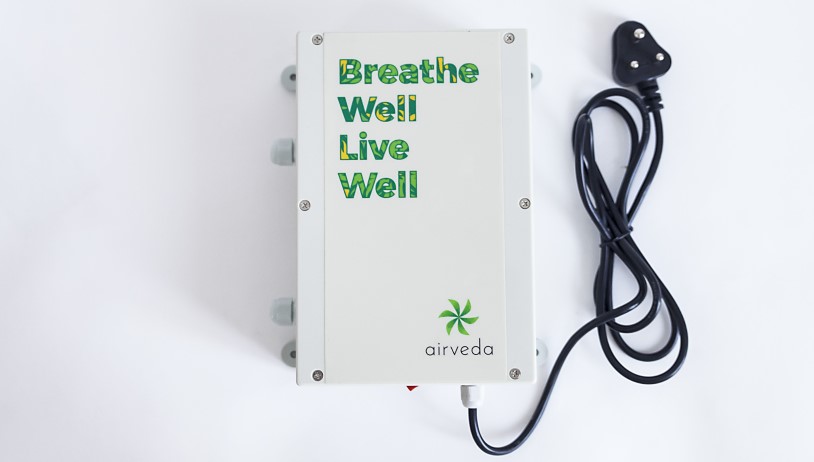 ACCURATE
Airveda outdoor monitors measure PM2.5 and PM10 using High quality laser sensors, calibrated individually for Indian conditions against BAM (Beta Attenuation Monitor- the most advanced system for measuring ambient air quality.)
WEATHER PROOF
The outdoor monitor comes in an IP55 box to ensure protection from the elements as well as dust.
MADE IN INDIA - LOCALLY MANUFACTURED & SERVICED
Airveda monitors are completely manufactured in India. Sensors are also calibrated locally to suit Indian conditions. Sensors can be locally re-calibrated as well as replaced easily. Our manufacturing facility has been running for 30 years and is a trusted name in the local industry.
EXTENDED LIFE OF SENSORS
A special feature allows the sensor to switch off/on at regular intervals to increase the life of the sensor considerably. This interval is configurable and can be configured to once every minute, 5 minutes, 10 minutes and 20 minutes. For GSM monitor this is factory configured.
APP ENABLED
Remotely monitor data and get alerts in Airveda app, available for free on iOS and Android. View current and historic data, understand your exposure over time, as well as compare with outdoor air quality in your city.
AVAILABLE WITH GSM
Outdoor Monitor is available with GSM option, making it ideal for outdoor use where no Wi-Fi is available.
Model Number: PM2510WP
₹ 17700 (inclusive of all taxes)
Add to Cart
Technical Specifications
Measurement

Measurement parameters: PM2.5, PM10 in μg/m3
Range of PM2.5: 0-999 μg/m3
Range of PM10: 0-1999 μg/m3
Minimum resolution of < 0.3 μm
Relative error Maximum of ±15%and±10µg/m3

Dimension
Tested and calibrated against :

BAM, Grimm 11-E

Features:

Internet connectable via Wi-Fi or GSM.
Data stored locally in case of internet connectivity outage for upto 2 days and uploaded to server when internet becomes available.
Data for sensor available in Airveda app (iOS and Android)
Data also available on online web Dashboard via Data Plan.
Warranty & Support
1 Year warranty against any manufacturing defects.
Client responsible for getting device to our facilities for all servicing. Service time 1 week.
Warranty is void if device is opened, tampered with or electronics damaged due to mechanical shock.
Working Principle
Using laser scattering principle: Light scattering can be induced when particles go through the detecting area. The scattered light is transformed into electrical signals and these signals will be amplified and processed. The number and diameter of particles can be obtained by analysis because the signal waveform has certain relations with the particles diameter.