THE PERFECT PARTNER FOR YOUR PURIFIER.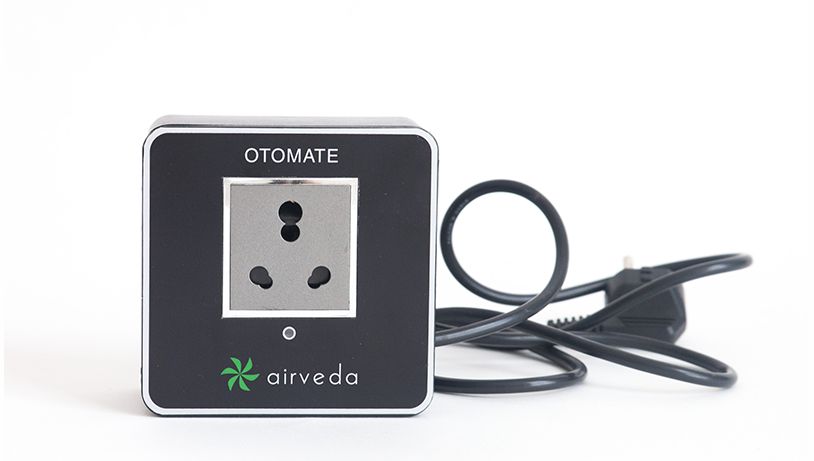 Otomate makes your purifier intelligent by automatically turning your purifier on when air quality is poor and turning it back off when air quality is good again. It saves energy and makes your filters last longer.
The sensors within Otomate auto-regulate the purifier depending on air quality at home. So you can leave your purifier on, all year, and know that it will automatically turn off when not needed.
You can remotely turn your purifier off when not at home , and turn it back on a few hours before returning, to breathe clean air when you get back home.
Finally a complete solution that lets you ensure clean air for your entire family.
Model Number: PM2510-OTO
Measurement Parameters: PM2.5, PM10
Control Parameters: PM2.5, PM10
₹ 15500 (inclusive of all taxes)
Add to Cart
How To Use
IN THREE EASY STEPS
Power on your Airveda Monitor.
Connect purifier into Otomate socket.
Connect Otomate plug into AC Mains socket.
NO MESSY WIRES
Otomate communicates with Airveda Monitor wirelessly via RF(Radio Frequency) and can hence communicate at a distance.
PLACE MONITOR AWAY FROM PURIFIER
You can conveniently keep the monitor where you want clean air, and not necessarily near the purifier where the air tends to be cleaner. Otomate can be kept with the power sockets and hidden from view.
Technical Specifications
Size: 11.6cm*11.6cm*6cm.
Outpute Voltage: 220V AC
Maximum Power Output: 1 kilowatt
Maximum Output rating: 220V/5Amps
Maximum Distance between Monitor and Otomate:15 m line of sight, and range may reduce with increasing obstruction.
Working Principle
Otomate controls your purifier, by turning the power in the socket on/off. After a purifier is turned off by turning the power off, some purifiers may not automatically turn on or retain their speed settings when the power comes back on. Such purifiers require an additional step of pressing the soft power/speed buttons on the purifier to turn them back on and may not work well with Otomate.
To Check if your purifier works with Otomate
Plug your purifier into a power socket.
Press relevant power/speed button on purifier to get it running.
Then unplug the purifier from the power socket.
Wait for 1 minute.
Plug in your purifier again.
If your purifier starts working at your specified setting then Otomate will work for you.
One Year Warranty
Sturdy and extensively tested, the product is manufactured end to end in India. Comes with a hassle-free one-year warranty.